November 15, 2016
By Jan Hensley-Olson, Affirmation newsletter, Vol. 42, Issue 1, Fall 2016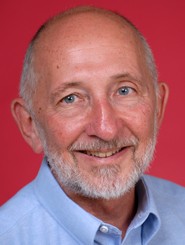 Affirmation and all organizations and individuals that fight for a more justice-filled world have lost a beloved friend. Gregory Robert Dell, age 70, passed away in Raleigh, NC, on Sunday, October 30, 2016, from complications of Parkinson's Disease. Greg has spent a lifetime championing the disenfranchised.
Greg was a pastor in the United Methodist Church for 40 years, serving churches in Naperville, Minooka, Evanston, Oak Park, and Chicago. His ministry focused on issues of peace, justice, and the celebration of human diversity, including a commitment to the inclusion of LGBTQI persons in faith communities.
In September 1998 Rev.Greg Dell officiated at a covenant service for two gay men who were members of his congregation, Broadway United Methodist Church, in Chicago. Charges were brought against him for being disobedient to The Book of Discipline. During the closely watched trial, Dell argued that his ordination vows to serve his congregation took precedence over church rules. In 1999, a jury of 13 voted 10 to 3 to suspend him indefinitely. The suspension would be lifted if he pledged not to do it again. He refused. On appeal, the suspension was changed to one year. He returned to Broadway UMC after he served the suspension. He said "I've been doing wedding celebrations for gay and lesbian couples for 18 years and I just did them because two people wanted to affirm in a faith community their love for each other as a gift from God. Thirty percent of my church was gay. What was I supposed to say, "I'll take your money, I'll baptize your babies, but I can't marry you if you love each other?"
His activism started as early as high school when he marched behind Dr. Martin Luther King Jr. through a white Chicago suburb. In college he actively recruited African-American students to attend an almost entire white student body at Illinois Wesleyan. He protested against South Africa's apartheid government, U.S. involvement in Nicaragua and El Salvador, and the Iraq War. The list goes on and on.
Greg was passionate about many issues but especially about inclusion. For Greg, All truly meant All! His beliefs were transformed into action which led to many arrests for civil disobedience. "I know no one else who's as articulate as he is on issues of theology and social justice," says Rev. Lynn Pries of Naperville, who's known Dell for 30 years. "He's just an extraordinary person with extraordinary gifts. He's somebody who takes his faith seriously, even when it means a great cost to him personally."
Thank you, Greg, for standing up for us even when we were unable to do so ourselves. Thank you for welcoming us with open arms and a love-filled heart. Our loss is Heaven's gain! On behalf of Affirmation, the Council wishes to extend sympathy to Greg's family, friends, and students. Peace be to his memory. Rest in Power, Greg.