October 31, 2016
By cathy knight, executive director, Church Within A Church Movement
The Church Within A Church Movement grieves the death of Rev. Greg Dell who passed Sunday October 30, 2016.
Greg has been the foundation on which we stand in this Movement. Greg was the founding co-convener of CWACM and guiding light for 15 years.
We celebrate a life well lived and mourn with all who loved Greg, all who were impacted by his ministry of love and justice, and the many who found a way to be wholly themselves and love God.
"This is how God made us, all different, so beautiful, a garden of humanity, and we should be able to come together and be who we are."

~Pastor Gregory Dell
On my last visit with Greg, he said he just wanted to be known as a good pastor. I told him there was no doubt. I told him how his consistent message of God's love for LGBTQI persons has saved lives, and that the risks he took to challenge UM polity on our behalf will continue to energize CWACM. He's heard me say that before. This time, I think he heard me.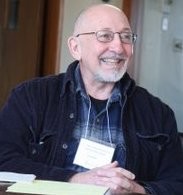 We've all been changed for knowing you, Greg. Rest, now. You've taught us well. We'll take it from here.
A celebration of his life will happen at a later date, likely in Chicago. We will let you know when we know more (see below).
Tracy Baim, editor of Out and Proud in Chicago: An Overview of the City's Gay Community, interviewed Greg Dell in 2007. The videos of the interview are available on the Chicago Gay History web site.
Memorial Service for Rev. Greg Dell
When: Sunday November 20, at 1:30 p.m.
Where: Alice Millar Chapel which is on the campus of Northwestern University, Evanston IL. 1870 Sheridan Road, Evanston, Illinois. There will be a reception at a site to be determined.
Alice Millar Chapel is just three blocks to the left of the top of the legend on the map.
On weekends, parking is free and unrestricted except for one private lot owned by a fraternity just east of the chapel.
Greg's obituary was published in the Chicago Tribune on Sunday, Nov. 6, 2016. You are invited to sign the online guest book and share a memory on the Chicago Tribune's obituary page.